Why travel to the Bahamas when you can travel in a Bahamas?
Here's why you need to hop on board the luxurious Sunrise Bahamas 23ft6 that boasts the largest ensuite on the market.
Calling all luxury caravan enthusiasts! Are you grey nomads ready to ditch the confines of your bricks and mortar, and caravan your way around Australia? Or are you a typical Australian family just looking for an easy way to spend more time with each other as you discover the beauty of Queensland?
Whatever your idea of the perfect caravanning experience, we're excited to reveal a brand-new luxury caravan that is fit to meet all your caravanning needs. Enter the Sunrise Bahamas.
3 reasons the Sunrise Bahamas is your ideal travel companion
1. It's a workhorse on and off the road
Packing 16-inch wheels, also with Oz Trekker Coil Off-Road Suspension by Road Runner Chassis underneath and high ground clearance as standard, giving you the ability to conquer challenging terrains while delivering comfort and handling when you need it most. Want more? To get you where you want to go in Australia, the Bahamas comes with a tough 6-inch drawbar and a 6-inch chassis right the way through, so it's tough as can be end to end. These features above will give you that independence you need.. As with all of our Sunrise models. The Tropicana comes complete on 3500 tonne axles giving you the ability to have greater payloads.
2. Be Self Sufficient For Longer
The Sunrise Bahamas is also made to maximise your free camping options with large water tanks and grey water storage,  2 x Solar panels are on board as are 2 batteries which are mounted on the chassis to give you more storage on the inside of the van,  power-saving LED lights, a huge awning and an external picnic table and a generator compartment to store your generator which will give you the flexibility to stay at your favourite destinations for longer periods of time
3. Top to toe luxury caravanning experience
Just because you're hitting the open road doesn't mean you don't want to do it in style!
And the Sunrise Bahamas does just that, providing 46 square feet of luxury caravanning experience.
Perks include a full stove and oven, stylish Ranger Rangehood, 3-in-1 water filter mixer tap and a deep kitchen sink surrounded by generous benches.
You'll also find the largest ensuite on the market, with classy marble-look benches for those family dinners and a skylight to enjoy refreshing airflow and a great view of the stars.
Take your pick from a queen-sized bed or two singles and adjust the configuration of the leather café seating to suit your needs as you travel in comfort.
EXTERIOR FEATURES
6 Inch Drawbar
6 Inch Chassis Right Through
2 Inch Chassis Raiser
Oz Trekker Coil Off-Road Suspension
D035 All Terrain Coupling
Heavy Duty Axles (3500kg)
ALKO Electronic Stability Control
Dibond Composite Smooth Sides
Checker Plate Front
600 High Checker Plate Sides
Rear Checker Plate to Tail Lights
2 x 170 Watt Solar Panels
2 x 105 Amp Batteries on Chassis
Reversing Camera
External Speakers
16 Inch Tyres
1 x Spare Tyre
Through Tunnel Boot
Extended A-Frame and Tool Box
External Generator Compartment
Mesh In A-Frame
External TV Compartment
Fully Insulated
Triple Lock Entry Door
Roll Out Awning
Double Glazed Windows
Pull Out Step
External Picnic Table
2 x 95L Water Tanks
1 x 95L Grey Water
Tap On A-Frame
External TV Compartment
Gas Bayonnet Fitting
2 x 9kg Gas Bottles
Jacking Points Welded to Chassis
Drop Down Jacks
Bumper Bar
12 Pin Flat Trailer Connector
Bargman Door Light
4 x Large External LED Lights Awning Side
1 x Large External LED Light Offside of Van
LED Tail and Clearance Lights
Light in Tunnel Boot


INTERIOR FEATURES
Full Rear Ensuite
Dometic 188L 2 Door 3-Way Fridge/Freezer
Full Stove and Oven
IBIS Air Conditioner
Microwave
12 Volt Rangehood
22 Inch TV
DVD/CD/Radio
Gas/240 Volt Hot Water System
Largest Ensuite On The Market
Cafe Seats with Foot Stools
Full Leather Upholstery
Tri-Fold Table
2 Meter Internal Roof Height
Grab Handle At Entry Of Van
Angled Kitchen
Full Height Roll Out Pantry
Full Height Splashbacks
950mm High Benchtops
Rolled Benches
Recessed Cooktop
3-in-1 Water Filter Tap
Deep Bowl Kitchen Sink
Queen Bed with Innerspring Mattress
Lift Up Under Bed Storage
Holland Blind On Door
Larger Shower Mould
Double Hanging Robes In Ensuite
Soft Close Drawers
10 Drawers In Ensuite
Large Porcelain Bowl In Ensuite
Piano Hinged Cupboards
Double Gas Strut Cupboards
Fire Extinguisher
Smoke Detector
Internal Speakers
Long 12 Volt LED Door Handle
Ranger Skylight Over Bedroom
Ranger Skylight Over Kitchen
12 Volt Exhaust Fan in Toilet and Shower
Large LED Roof Lights
12 Volt LED Reading Lights
12 Volt LED Light above Kitchen Sink
Wind Up TV Aerial
Double Power Points throughout Van
12 Volt Socket with Double USB beside bed
12 Volt Socket with Double USB above dinette
40 Amp Smart Battery Charging System
30 Amp Solar Controller
So, where can the Sunrise Bahamas take you?
Prepare to travel wherever the wind takes you with the off-road  Sunrise Bahamas. Explore Queensland's more remote national parks, beautiful beaches and adventurous family destinations all from the cosy seat of this epic luxury caravan. Here are just a couple of our top picks!
1. Vincent 'Bushy' Parker Park
Looking for easy access? Located in town, 'Bushy' could be the perfect option if you want to get the feel for your new Sunrise Bahamas without going off-road. You'll be able to pick up good television and mobile reception and start up your generator to remain self-contained. Once you're settled in you can explore the Jourama Falls in the Paluma Range National Park, or enjoy a rejuvenating rainforest walk along Balgal Beach. You're also perfectly placed to catch the ferry over to the beautiful and secluded Magnetic Island.
2. Redbank Park Jericho
Located on the banks of the Jordan River, the access roads to Redbank Park can be slippery. But this won't be a problem for the Sunrise Bahamas thanks to its 16-inch tyres, great ground clearance and coil off-road suspension! Redbank Park is at the edge of town near the local school, whose committee put on pancakes and billy tea on Sunday mornings. What better way to feel at one with the local community? There are also self-drive 4×4 tours and a gorge to explore. The large billabong is ideal for fishing, swimming and observing the wildlife.
Start living the dream with the Sunrise Bahamas!
Ready to embark on the caravanning cruise of a lifetime? Check out the brand-new Sunrise Bahamas at Sunrise Caravans. We can't wait to show off just what this luxury caravan can do so that you'll always feel at home wherever the open road takes you.
Floor Plans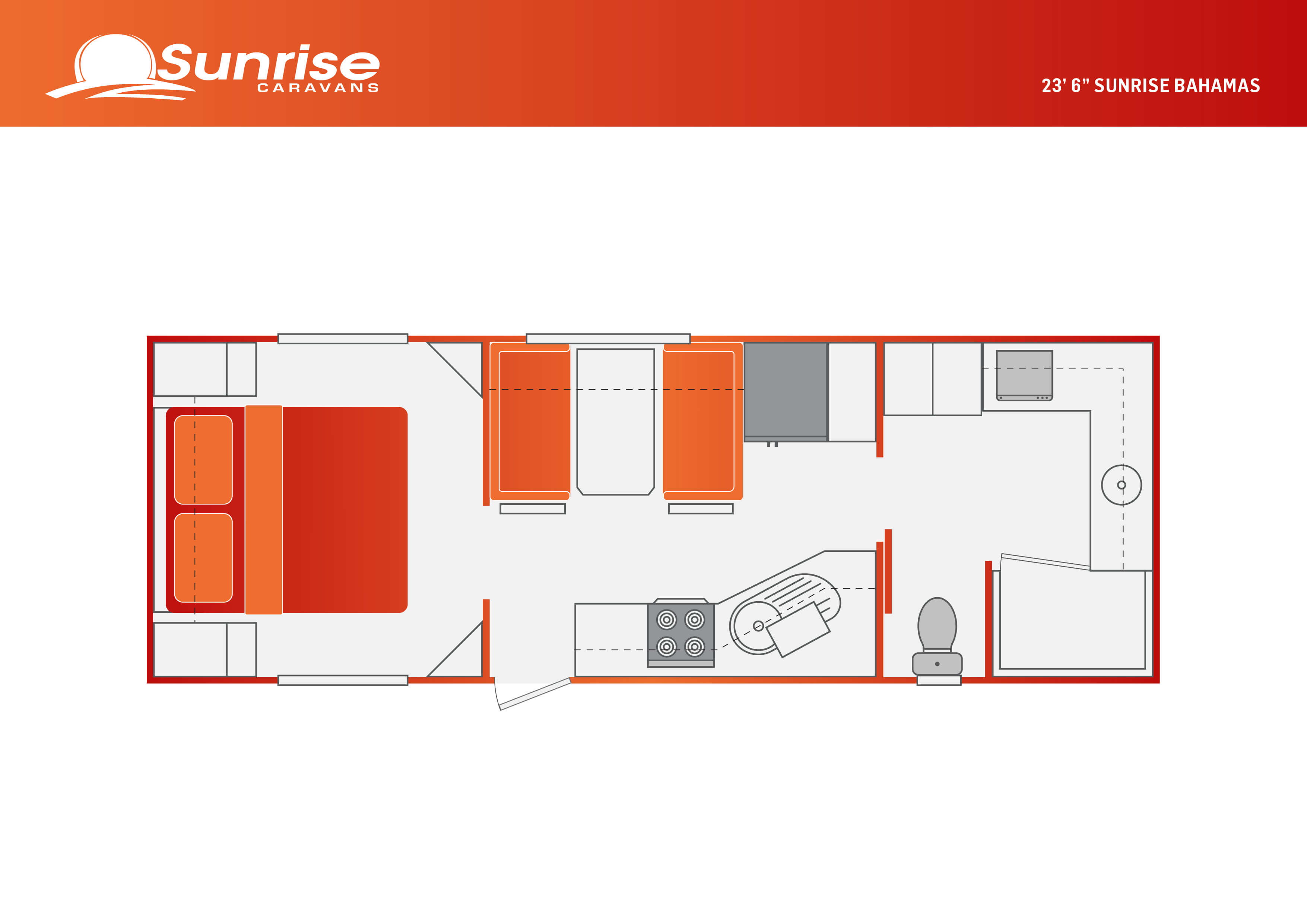 Upgradeable Features
Single Beds, 16 Inch Wheels, Hot Dipped Galvanised Chassis, Underfloor Galvanised Sheets, 12 Inch Brakes, Coil Suspension, Airbag Suspension, Simplicity Independent Suspension, Full Annex, Extra Solar Panels, Extra Batteries, Upgrade to 3 Or 4 Arm Bumper Bar, 12Volt Fridge, Hyland Coupling, Extra Water Tanks, Automatic Satellite Dish, Generator, Generator On Slider And Soverign Pull Out Barbeque, Lithium Batteries.